They laced up their shoes and headed for the starting line. What seemed to be a typical half marathon soon changed as the contestants began strapping on weights. Arm weights. Chest weights. Ankle weights. The ultimate challenge – run the race carrying the weight they had recently lost. Runners strapped on 75 – 115 lbs as a reminder of what used to weigh their lives down, keeping them from living to their potential.
On an elevated level, I am convinced we do this as believers. We strap on rejection, a painful past, fear, guilt, and old habits and attempt to run the marathon of life. Burdens that are no longer ours to bear, paid in full by the cross, continue to hold us down, molding our identity, shaping our longings.
The Israelites were no stranger to this weird phenomenon. After 400 years of slavery, they were finally free – physically. With each struggle in the desert, they longed to return to their land of slavery. The chains that held them in cruel bondage and discouragement were familiar, a sense of security in an unknown desert land. They were physically free but mentally slaves.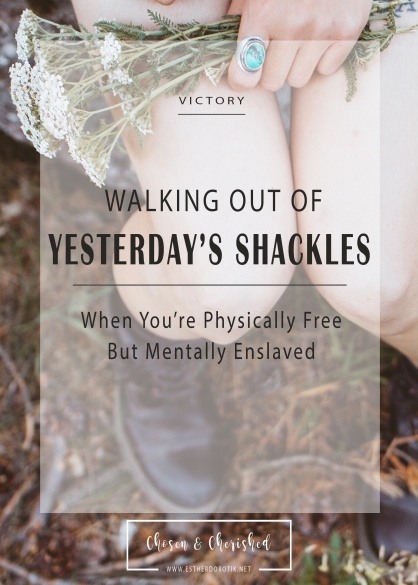 For many of us, while we walk in freedom from the chains of death, we remain mentally chained to our past. Not realizing God does some of His greatest work through the frailest people.
Sound familiar? You're not alone! When you find yourself returning to familiar chains, strapping on the heavy load of a previous you, there are a few things you can do.
1. Understand This Is A Lifelong Battle
The enemy knows our name, but he calls us by our failures. As long as we are still breathing, the enemy is still dangling memories, trying to get us to strap on the hurt. Recognizing this is a lifelong struggle is a key to standing in victory and not feeling defeated. It's not a once win, always win. As believers, we are not absent from pain and suffering caused by ourselves or others. Hurts will arise. Sin will creep in. We must be ready, not exchanging the peace of freedom for the bait of slavery. Until we meet Jesus face to face, the marathon of life continues. Remaining focused on the heavenly goal, we will forget what is behind, strain toward what is ahead, and press on to the heavenward prize.
For in my inner being I delight in God's law; but I see another law at work in me, waging war against the law of my mind and making me a prisoner of the law of sin at work within me. Romans 7:22-23
Beloved, do not be surprised at the fiery trial when it comes upon you to test you, as though something strange were happening to you. 1 Peter 4:12
Brothers and sisters, I do not consider myself yet to have taken hold of it. But one thing I do: Forgetting what is behind and straining toward what is ahead, I press on toward the goal to win the prize for which God has called me heavenward in Christ Jesus. Philippians 3:13-14
---

KEEP PRESSING FORWARD ~  PHILIPPIANS 3:13

---
2. Choose Your Thoughts
Paying close attention to our thoughts is key to living shackle free. What we think comes out in our actions and words. Physically held by force, bound by the Spirit at work in us, our thoughts must become obedient to Christ. Anything – EVERYTHING – that sets itself up against God must be crushed, annihilated, destroyed. This doesn't mean ignoring the thoughts because they seemingly return. It requires renewing your mind. Dwelling on God's Word, not the voices that call you back to former things. God's desire is to use the painful past to make a way in the wilderness, streams in the wasteland. He is doing a new thing in your life! Do you perceive it?
We demolish arguments and every pretension that sets itself up against the knowledge of God, and we take captive every thought to make it obedient to Christ. 2 Corinthians 10:5
Forget the former things; do not dwell on the past. See, I am doing a new thing! Now it springs up; do you not perceive it? I am making a way in the wilderness and streams in the wasteland. Isaiah. 43:18-19
 Do not conform to the pattern of this world, but be transformed by the renewing of your mind. Then you will be able to test and approve what God's will is—his good, pleasing and perfect will. Romans 12:2

3. Realize You Are Created Victorious
With every unwelcomed circumstance or thought, a choice is at hand. Will we choose to be a victim or victor? The moment you accepted Christ, the weight He bore on the cross broke the heavy shackles, and your burden lifted. His death and resurrection swallowed slavery – for good! So, when those lies of defeat, discouragement, and bondage come knocking, let the Savior answer. Under the pillar of the cross, we take our stand of victory. The smallest victories are worthy of a celebration; turn them into a conversation of gratitude with the King.
But thanks be to God! He gives us the victory through our Lord Jesus Christ. 1 Corinthians 15:57 (NIV)
For the LORD your God is the one who goes with you to fight for you against your enemies to give you victory. Deuteronomy 20:4 (NIV)
 Finally, be strong in the Lord and in his mighty power. Ephesians 6:10 (NIV)
No, in all these things we are more than conquerors through Him who loved us. Romans 8:37
4. Stand on the promise of God
We walk by faith, not by sight (2 Corinthians 5:7) so who we are (or aren't) isn't nearly as important as who He is. Even when you feel defeated, and the circumstances tip the scale toward a victim, chose to stand on the promises of God. Heaven and earth may pass away but God's word will not. The foundation of His throne is faithfulness. He does not violate His covenant or alter what His lips have already uttered (Psalm 89:34). Whether you need strength, healing, courage, wisdom, peace, or anything else, stand on the gift of His promise. Like any gift, though you have to receive it, unwrap it, and use it.
I have been crucified with Christ and I no longer live, but Christ lives in me. The life I now live in the body, I live by faith in the Son of God, who loved me and gave himself for me. I do not set aside the grace of God, for if righteousness could be gained through the law, Christ died for nothing! Galatians 2:20
Therefore, if anyone is in Christ, the new creation has come: The old has gone, the new is here! 2 Corinthians 5:17
For no matter how many promises God has made, they are "YES" in Christ. And so through Him the "AMEN" is spoken by us to the glory of God. 2 Corinthians 1:20 (NIV)
Father, thank you for taking the weight of the world's sin so we can walk with our heads held height. Help us to understand this lifelong battle, choose our thoughts wisely, walk victorious and stand on Your promises. We want to be free both eternally and mentally. Help me overcome the noise of my past. For no matter how many promises God has made, we say "yes" and "AMEN". All for the glory of God!