We've all been there. On the receiving end of reckless words. And while our mouths can declare with a sense of certainty, "sticks and stones may break my bones, but words will never hurt me," our hearts have a harder time believing it.
Tears well up. Hurts are deposited. Hearts grow cold.
Words. The most powerful tool we have for communication, and yet, according to Proverbs 18:21, they can be used to breathe life or inflict death.
We learn this "art" of words – the painful infliction of death by tongue – at a very young age.
We learn to show compassion or criticize. Teach or tear down. Extend grace or spew disgrace. Worship or whine. Defend or divide. Make peace or stir up problems. Gossip or give wise counsel. Bless or bruise.
In Matthew 12:36, Jesus made a sobering comment, "But I tell you that everyone will have to give account on the day of judgment for every empty word they have spoken."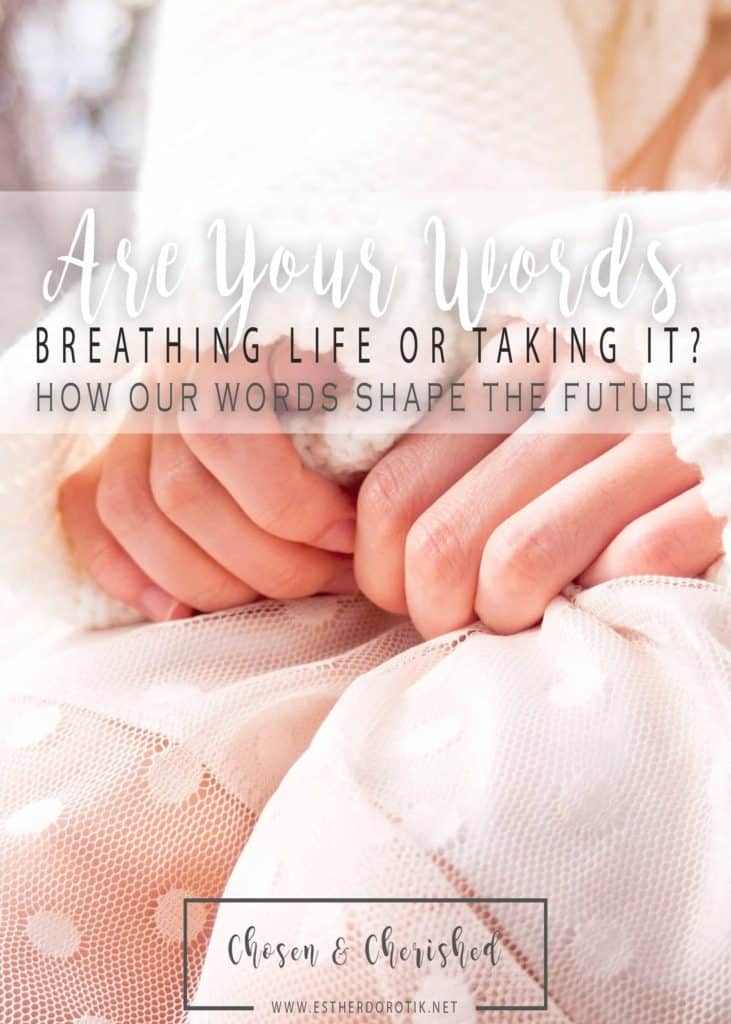 The fact is our words carry a lot of weight. With warnings about the magnitude of the tongue sprinkled through scripture, we have to understand how important our words are to the Father AND how influential they are to our neighbor.
After all, God spoke creation into motion and made us in His image. Having made all creatures, God "brought them to Adam to see what he (Adam) would name them and that is what they were called" (Genesis 2:19). How about Pentecost? For the first time, people were filled with the Holy Spirit, represented as flaming tongues, and they proclaimed the Gospel in other languages.
God has given us authority in our words but with that comes great responsibility. His desire is for us to call forth life, proclaiming the Gospel.
James describes the extent of the tongue's damage in James 3:2-12. As we dive into the six takeaways, ask the Father to open the eyes of your heart to any areas of concern. So download your Making Christ Lord Of My Lips Workbook (sign up for the newsletter) and let's get started!
1.) We All Stumble
You're not alone in this battle. We know from scripture, Jesus is the only one without fault. You and I have all fallen and said things we wish we could take back. But, to gain ground in this area, we have to be open to areas of improvement and acknowledge our need. Once we open our hearts to the truth of this need, we're set free to move forward.
We all stumble in many ways. If anyone is never at fault in what he says, he is a perfect man, able to keep his whole body in check. James 3:2
2.) Deadly Poison Is At The Tip Of The Tongue
While I would never actually hand someone a cup of deadly poison to drink, there have been times I've given them a "cup" full of my poisonous words. What we say to or about others speaks volumes about us. Criticism, harsh, complaining, cussing, condescending, bragging, manipulation, gossip, lying, exaggerating, and negativity are all forms of deadly poison. We have to train ourselves to see them in such a way.
All kinds of animals, birds, reptiles and sea creatures are being tamed and have been tamed by mankind,

 

but no human being can tame the tongue. It is a restless evil, full of deadly poison. James 3:7-8

3.) Our Words Shape Our Lives.
I love that James uses a ship as an example. The first ship ever made, the Ark, was designed by God to save lives, preserve future generations, and redirect the course of the world. We are created to do the same, friends! But the tiny "rudder" in our mouths, take us off course. It may start with one degree off but, left uncorrected; we will find ourselves headed in an entirely different direction than the Captain ordered. Our tongue controls who we become; where we go.
When we put bits into the mouths of horses to make them obey us, we can turn the whole animal. Or take ships as an example. Although they are so large and are driven by strong winds, they are steered by a very small rudder wherever the pilot wants to go. Likewise, the tongue is a small part of the body, but it makes great boasts. James 3:3-4
4.) Our Speech Has The Ability To Ruin Our Entire Life
It's amazing how much destruction one word can cause. Friendships end, ministries evaporate, marriages dissolve, and families wither as a result of the tongue. The untamed tongue, with its roots in hell, is like a small spark in the dry grass of summer's heat. It burns out of control, consuming everything in the path while leaving behind permanent devastation.
Consider what a great forest is set on fire by a small spark. The tongue also is a fire, a world of evil among the parts of the body. It corrupts the whole body, sets the whole course of one's life on fire, and is itself set on fire by hell. James 3:5-6
5.) Doesn't Mix With Godly Character
If you've ever made salad dressing, you know oil and water DO NOT MIX. Sure, you can vigorously shake it until it somewhat blends, but within minutes the two have parted ways; oil on top, water on the bottom. When we curse or condemn others, we are cursing their Creator; the One who made them in His image and likeness. The words float to the top, covering up the life-giving water below. Ungodly words will never mix with His living water.
With the tongue, we praise our Lord and Father, and with it, we curse human beings, who have been made in God's likeness.

 

Out of the same mouth come praise and cursing. My brothers and sisters, this should not be.

 

Can both fresh water and salt water flow from the same spring?

 

My brothers and sisters, can a fig tree bear olives, or a grapevine bear figs? Neither can a salt spring produce fresh water. James 3:9-12
6.) It Will Lead Us Further From God
Because empty, poisonous words to not mix with Godly character, the more we allow our "rudder" to take us off course, the further and further away from God we get. Our lives display less of Him and more and more of our divisive ways.
Avoid godless chatter, because those who indulge in it will become more and more ungodly. 2 Timothy 2:16
I don't know about you, but I have enough to give an account for before adding a laundry list of empty words to it. Not to mention, I want my words to heal wounds, not cause them. How then do we tame the tongue? Join me next week as we get to the heart of the issue! Blessings!
Press In
Do your words point others (family, friends, co-workers, strangers) to God or away from Him?
Of the deadly poisons listed in point 2, in which area(s) do you struggle? Write it down and pray over it. We will revisit these next week.
Do you see how words have shaped your life? What about the life of someone else?
Have you seen the "rudder" of someone's mouth cause irreparable damage?
Commit to memorizing Proverbs 18:21.