While the battle certainly begins in the mind, the casualties of war are felt throughout the body. Lost peace, patience, trust, and desire leave behind a battlefield ravished by grief, hopelessness, and despair.
In his attempts to get us to doubt God's view of us, the enemy flickers images of past failures, discouraging us so we focus on our shortcomings rather than the finished work of Christ. His sole desire is to defeat us so we no longer have the desire to do the good work God planned for us long ago (Ephesians 2:10).
I have watched his master plot unfold in my life and the lives of loved ones enough to see that patterns do exist. Although he is crafty, Scripture tells us in Ecclesiastes 1:9, there is nothing new under the sun so his ways are predictable.
DOUBT
The enemy's number one tactic to sway God's children is confusion. If he can persuade us to discredit God's Word, distrust His goodness, and waver in our faith, he is well on his way to winning. Doubt leaves you teetering the fence of faith and vulnerable to the tug of temptation. Satan is crafty; he knows how you work and how to use God's word.
"Did God really say…" Genesis 3:1
"You will not surely die…" Genesis 3:4
"If you are the Son of God…" Matthew 4:3
DISCONTENTMENT
By entertaining all God has "NOT" given you and all He is keeping from you, the Seducer stirs up dissatisfaction. Most often, dissatisfaction leads to comparison, complaining, and conceit. By enticing Eve with the one thing she could not have, Satan was able to undermine her contentment and alter the world for all time. Or, what about the nation of Israel? As they traveled throughout the desert, a constant complaining spirit settled as they longed to return to what was "better" in Egypt. It ended up costing them 40 years in the desert. Slowly, discontentment opens the door for an ungrateful, rebellious heart towards God and the consequences follow.

DISMAY
Your enemy, the devil, prowls around like a roaring lion looking for someone to devour. 1 Peter 5:8
Devour – wear out, drain, annihilate, swallow, consume, and deplete.
Wow, what a list! What better way to defeat you than by misdirecting your attention onto your problem and the lack of your ability rather than God's insurmountable abilities; the problem rather than the Problem Solver. Wave after wave of discouragement ambush your mind, failure sets in, and you give up.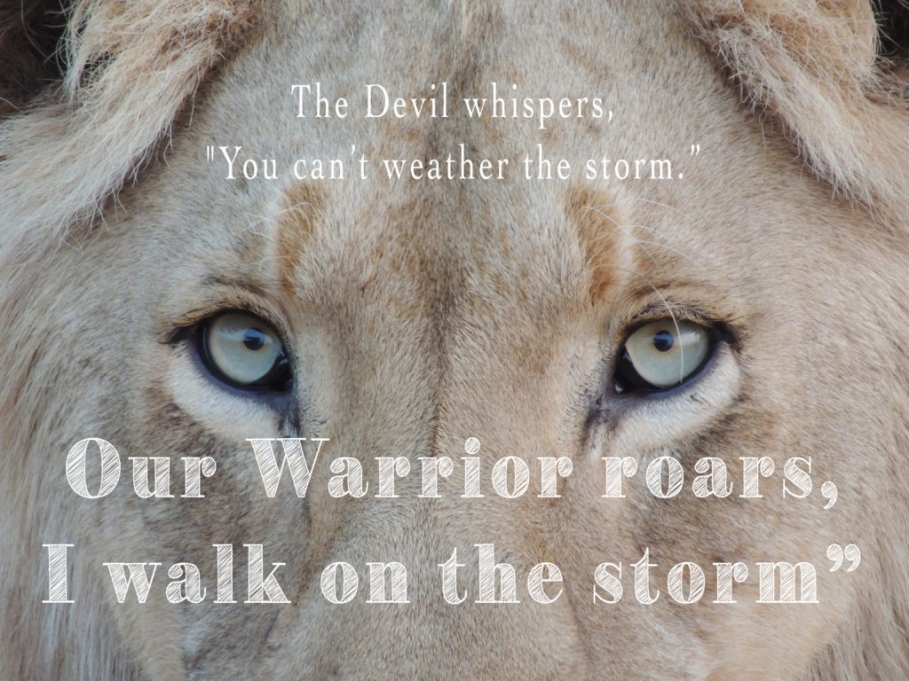 DISTRACTION
Standing between the waves of the storm and the Wave Whisperer, Peter became distracted by the wind and began to sink. Distractions are all around us. Within seconds of waking, were drawn away to the call of busyness. We cram our calendars full of to-do lists and leave little to no margin for divine interruptions. This is a dangerous place to be because, unlike Peter, our distractions may not be as obvious as a raging storm but certainly have the weight to make us sink; including good things. We must not confuse good works with God's work or allow the strongholds of time to distract us from Spirit free living.
---

If the devil can't make you bad, he'll make you busy. – Adrian Rogers

---
DETER
While the gates of Hades cannot overcome the Church (Mattew 16:18), the enemy will most certainly do everything within his power to delay or deter the movement. In 1 Thessalonians 2:18, Paul says, "For we wanted to come to you again and again – but Satan stopped us."
Time is the most precious resource available to us. The enemy interrupts your desire to do something God has already asked you to do. It starts with I'll do it tomorrow and ends with a ceaseless wait.  James declares in 4:14 life is a mist, here for but a moment, so let's make it count for eternity. Don't put off something for tomorrow that should have been done yesterday. Delay destroys destinies.
---

Procrastination is the thief of time. – Edward Young

---
1 Peter 1:13 Therefore, prepare your minds for action (battle)…
PRESS IN
Doubt and distraction kept Peter from fully walking on water. How have these two devices kept you from stepping out of the boat to "walk on water" with Him?
What areas of doubt cause you to stumble? Be specific.
Are there certain forms of discontentment you struggle with? Material things, spiritual gifts, your current season, the conceit mentality of I deserve this, etc.
This list is far from complete. Do you notice other ways the enemy attempts to plot against your life? Really dig in here. You are creating a battle plan.
Have you found yourself procrastinating in an area the Lord has asked you to move forward in? What do you or loved ones stand to lose from the delaying?
How can you "prepare your mind for battle"?
Be sure to read the series.