It sat on our dining room table in a beautiful blue ceramic pot. All 4 inches stooped lifeless and withering. As I picked up the pot to empty out the contents, I wondered how I had let another plant die, especially one with a "guarantee to grow." Headed toward the trash, I couldn't help but consider how in so many ways this small shriveled up plant represented the current season of my life. A season filled with pain and uncertainty left questioning how beauty could ever come from the ashes I held in my hands.
Have you ever found yourself in a similar season? A rocky marriage that's left you stranded on the shore of a stony heart. Perhaps the little laughs you long to fill your house have left this dry season joyless. Or, maybe you've been stripped down to nothing by shattered dreams. Whatever you're facing, hold tight to the threads of His garment. Every season of life is preparing you for the next.
Stormy Season
Like so many, maybe your life is one storm after another. Your leaves have been pounded by the hail, limbs ripped by the wind, and soil washed away by the rushing water. You sense God there but wonder why He has allowed such misery and pain to storm the field of your life. You may feel agonizing pain, abandoned and alone. The enemy would love nothing more for you to think there is no one else who understands, no one who cares, and surely, no one who can help. During these painful seasons, when we're vulnerable, we have to take those invading thoughts captive (2 Corinthians 10:5). Any and every thought that stands opposed to the goodness and faithfulness of God, must fall. It's easy to grow weary while in this season. Seek shelter in the only One able to hush the waves and still the storm to a whisper. Focus on scripture that reminds you of His unfailing love. Trust in His ability to give you peace in the midst of the storm.
Though the mountains be shaken and the hills be removed, yet my unfailing love for you will not be shaken nor my covenant of peace be removed, " says the Lord, who has compassion on you. Isaiah 54:10
God is our refuge and strength, an ever-present help in trouble. Psalm 46:1
The righteous call to the Lord, and he listens; he rescues them from all their troubles. Psalm 34:17
He who dwells in the shelter of the Most High will rest in the shadow of the Almighty. I will say of the Lord, "He is my refuge and my fortress, my God, in whom I trust."   Psalm 91:1-2
Dry Barren Season
Perhaps, you're experiencing a season of drought right now where you don't feel His nearness or see His hand tilling the soil of your life. Press in, my friend. During these dry times, continue to seek His face and drench yourself in His Word. It is our fleshes natural response (and Satan's greatest desire) for us to retreat, pull back, and turn aside but, in doing so, you cut off the very One who nourishes your soul. In Jeremiah 17, he says those who depend on flesh for strength, whose hearts turn away from the Lord will be like a bush in the wasteland, BUT those who trust in the Lord will not worry when drought comes. They, who have confidence in the Lord, will always be green and bear fruit. The barren winter ground you're standing on, covered with dead leaves, is actually preparing you for the new beginnings of spring. As Psalm 1 declares, meditate on His law day and night and you will be like a tree planted by streams of water, yielding fruit IN ITS SEASON. Your season will come!
I will make rivers flow on barren heights, and springs within the valleys. I will turn the desert into pools of water and the parched ground into springs. Isaiah 41:18
But blessed are those who trust in the Lord and have made the Lord their hope and confidence. They are like trees planted along a riverbank, with roots that reach deep into the water. Such trees are not bothered by the heat or worried by long months of drought. Their leaves stay green, and they never stop producing fruit. Jeremiah 17:5-8
For the eyes of the Lord range throughout the earth to strengthen those whose hearts are fully committed to Him. 2 Chronicles 16:9
Consider Him who endured such opposition from sinful men, so that you will not grow weary and lose heart. Hebrews 12:3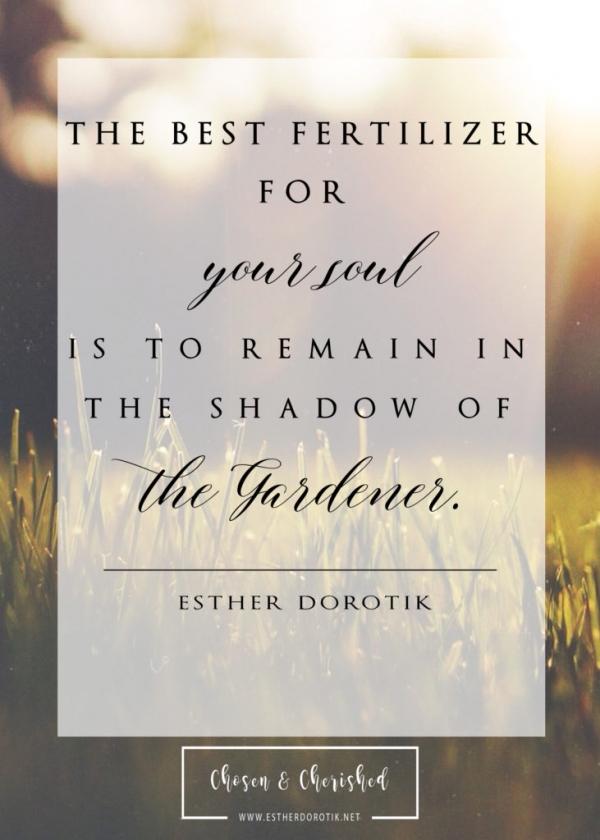 Pruning Season
Sandwiched between the pressure of God's shears, you might feel like God has pruned you too much, leveling you with the ground. This season is a hard season marked by loss, pressure, and the temptation to run. During this time, stand firm. Pruning is essential for the spiritual development and growth of all believers. God's shears of love trim away dead thoughts, diseased relationships, and hazardous actions leaving a healthy vibrant planting of the Lord on display for His glory. In John 15:2, Jesus said the Good Gardener, "… prunes every branch that bears fruit so that it will be even more fruitful." If you're in a pruning season, that means two things: you were already producing fruit AND the season ahead has far greater fruit for you to bear. Guard your heart, rely on Him to strengthen you, and resist the urge to run away from the shearing hands of the Gardner. He has chosen you and appointed you to go and bear fruit that will last (John 15:16).
My son, do not make light of the Lord's discipline and do not lose heart when He rebukes you, because the Lord disciplines those He loves … Hebrews 12:5-6
No discipline seems pleasant at the time, but painful. Later on, however, it produces a harvest of righteousness and peace for those who have been trained by it. Hebrews 12:11
Above all else, guard your heart, for everything you do flows from it. Proverbs 4:23
My flesh and my heart may fail, but God is the strength of my heart and my portion forever. Psalm 73:26
Unlike my inability to grow plants, we serve One who makes all things flourish in its time. As branches of His Vine, we have an expert Gardener as our Father despite the season of life we find ourselves in. An experienced Gardener who, not only guarantees we grow but that we live abundantly. We must be deeply rooted and nourished – built up – in Him alone (Colossians 2:7) to withstand seasons of deep drought, turbulent storms of life, and pruning times. The best fertilizer for your soul is to remain in the shadow of the Gardener.
Do you know someone struggling with a tough season? Be sure to share this post with them and lift them up in prayer. Your prayer is powerful and effective!