She gathered her things and headed out the door. "Surely, no one will be there at this time," she reassured herself. She had heard the snickering and seen the piercing glances and just couldn't handle it on this day. The dust gathering on her feet couldn't compare to the dirt her heart had collected through the years. Peeling her eyes from the ground and looking up, she sees a figure sitting in the distance. Heart beating faster, she approaches her destination, head down, eyes focused on the ground beneath her. "Will you give me a drink?", the man asked. He was physically tired, she was spiritually parched.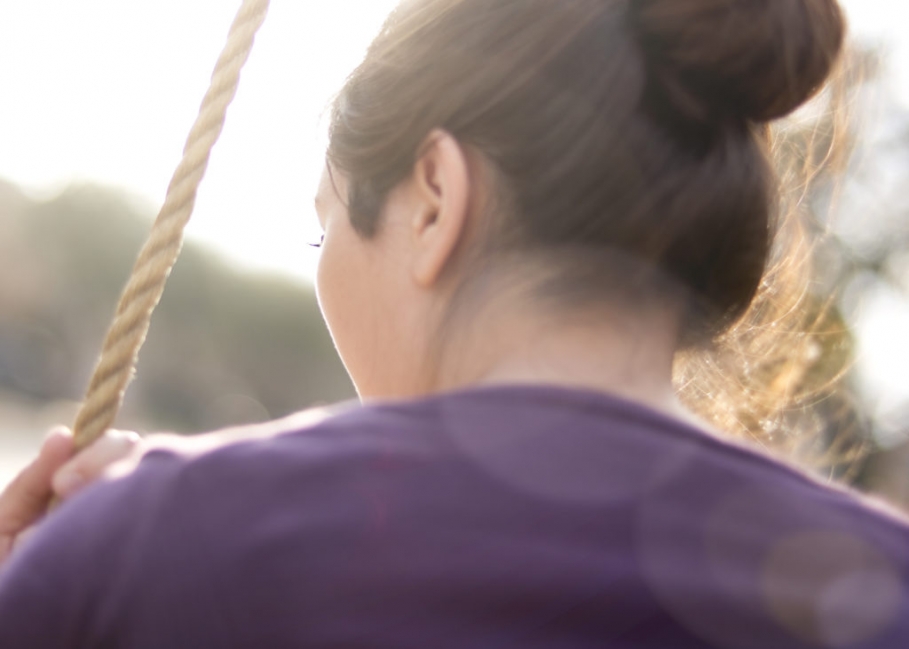 I love this story because in many ways it is my story. While most Jews did everything they could to avoid the region of Samaria, Jesus walked right through it, AND STOPPED. Not only did He stop, He approached a Samaritan woman living in sin. A Samaritan, considered by Jews as impure. A woman, considered less than valuable, living an impure life. Why? Because His love for her, for us, runs deeper than any cultural difference, social standing, and certainly our sinful nature. He initiated it with her and He initiates it with us.
I relate so well to her response, "You are a Jew and I am a Samaritan woman. How can you ask me for a drink?" Oh, how many times I've thought that same thing. You, Jesus are God and I am a sinful person. I have lived a terribly sinful life and still fall down and "scratch my knees" sometimes. How can you ask me for …? How can you use me for …? If they knew what I've done… The truth is, He does know what I've done and wants to use this broken vessel anyway. A vessel many would have tossed away as trash, He valued as a treasure. His desire is to lovingly mend the cracks, fill us up with Him, and use us to pour out life onto others.
"But, sir, this well is deep." she reminded Him. Boy, have my wells run deep. These empty wells I've chased have left me unsatisfied, always wanting more. Although I've been saved for years, I have always struggled with acceptance. Fear of rejection has run so deep, keeping me from pursuing His greater calling. Deep wells of rejection and pursuit of acceptance were the driving force for so much of my life. I don't know if you're chasing empty wells, you feel like you've fallen in a well, or your well has run dry, but what I do know is the One who can restore you. He is the spring of living water. The quench to your thirst. A well requires you to work for it but a spring, comes with no work. No effort on your part.
"Are you greater than our father Jacob?" she asked. I laughed when I read this. Seriously! I didn't laugh because her question was dumb or think, don't you know?! No, I laughed because I have struggled with this question for years. Are you greater than my history? My past? My pain? Are you great enough, big enough to take my history, my story, redeem it and use it for your glory? The answer…yes! How can He not use it, is the better question. A story filled with dysfunctional childhood, young runaway, drugs, drinking, 14-year old marriage, high-school dropout, 16-year old mama, abandoned 7.5 months pregnant, divorced before the legal age of marriage, abusive relationships, more drugs, more partying, close overdose, relationship after relationship, deep thoughts of suicide, and even deeper thoughts of a worthless life. Yes, that was me. Most can't believe it now but that's only because of the power of Christ's love. He approached me. He initiated His love for me, a sinful, impure "Samaritan" women. He asked me for a drink from my deep, empty well and replaced it with a life-giving Spring.
So now, leaving my life behind, I run to tell others, "Come and see the man who knows everything I've ever done" and loves me anyway.
Come and see the man who knows everything you've ever done and loves you anyway. Come and see the man who saw your unformed body and declared, "It is good." Come and see the man who sees your crying and holds each tear in his hand. Come and see the man who feels your loneliness and says "Never will I leave you, never will I forsake you." Come and see the man who knows your brokenness and declares "I am near to the crushed and bind up their wounds". Come and see the man who hears your anxious heart and whispers "Be still and know that I am God." Come and see the man who took your chains and nailed them to the cross to set you, the captive, free.
Come and see this Man, the Messiah, the Lover of your soul, Deliverer of your freedom. Come…
Bible reading from John 4:1-42