Unsure of where to go but certain she had to get away, she grabbed what she could carry in her arms and fled.  A servant caught in the middle of chaos, significantly affected by the choices of others.
Given away like a piece of property. Used for selfish desires. Mistreated at the hands of another. Wandering in the wilderness – alone.
Tears streamed down her face; this isn't the life she dreamed of as a little girl. What could she possibly offer the child she now carried?
Pregnant and afraid, running from her reality is where we meet Hagar in Genesis 16. But alone she was not because the One who works righteousness and justice for all oppressed (Psalm 103:6) and seeks the lost "found Hagar near a spring in the desert" (Genesis 16:7).
And He said to her, "Hagar, servant of Sarai, where have you come from and where are you going?" (Genesis 16:8)
Where she had been and where she headed converged in the desert. She was at a crossroad. Somewhere along life's road, she lost herself to the will of others. She was a servant of Sarai.
I wonder if you can relate. Wandering in the wilderness of deep longings, maybe you find yourself a "servant of _____."  Husband. Kids. Career. A servant of the need to feel sufficient, to do it all, or an illusion of perfection. Or, like many of us, perhaps you're a slave of an experience. Abused. Mistreated. Abandoned.
But notice what name the Lord called her first – Hagar. He found her and called her by the name He knew before He flung the stary jewels in the heavens. THEN, he acknowledged how she identified herself.
He didn't ignore the human identity she had been given, or the current season she was in because she was a "servant of Sarai "but it didn't take precedence.
'Where have you come from … '
So often, we can describe where we've been with great detail. The valleys we've walked through are vivid pictures permanently engraved on our eyelids. Dark shadows of fear and pain serve as a reminder of our suffering. Expectations and past disappointments can cloud our vision of victory, increase fear of failure, add debilitating doubt, and trash our trust in Him. And while the enemy would love to keep our eyes fixed on the rearview mirror of life, God is asking us to look ahead.

He's saying, 'I know where you've been but where are you going?'
A question not meant to bring fear or confusion but to give vision. Because if you and I are honest, with ease we can say where we've been, but we can't tell you where we are going with clarity. Like Hagar, who never answered the question "Where are you going?" (Genesis 16:8), we try to dance around it like a landmine filled with hidden explosives.
God knew Hagar didn't know where she was going. He asked her – and He invites us – to help us acknowledge our need for His Divine Direction. He meets us in our wandering wilderness, calls us by our real name, asks us where we've been but shows us where to go.
Hagar a name meaning "flight," yet God was asking her to surrender and return (Genesis 16:9). He was asking Hagar as He asks us to fix our eyes on Him, to set our gaze on our citizenship in His Kingdom not on what our limited eyes see (Colossians 3:2). For Hagar, this meant returning to her unkind mistress and bearing a son that would be considered Sarai and Abram's.
For you, that might mean surrendering a career for a child who needs you at home. It might involve laying down a dream for which without you can't see yourself. Or, like Hagar, it might mean returning to a job with a boss like Sarai and displaying the light of the world in the midst of the dark situation. Wherever God is leading you, whatever He might be asking you to surrender, know it is well worth meeting the God who sees you, who hears your heart and understands your needs. Genesis 16:13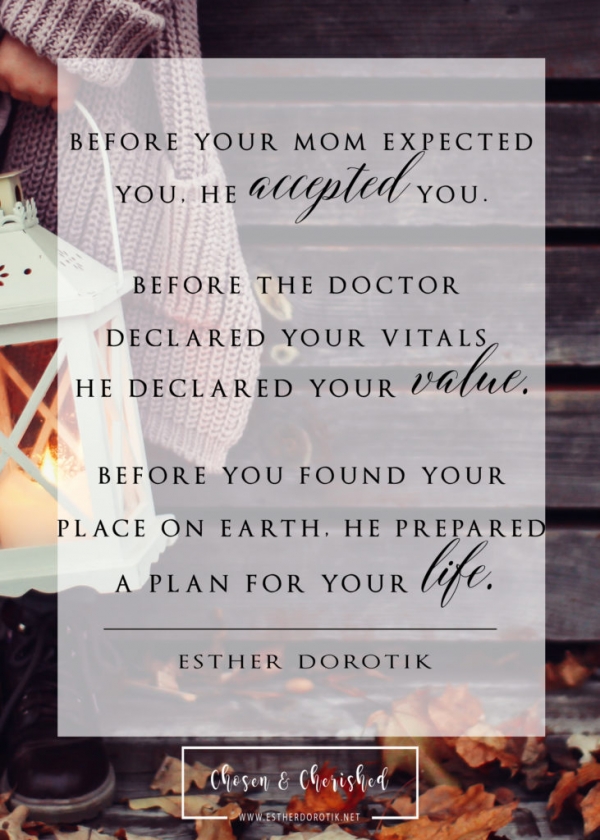 Because before your mom expected you, He accepted you. Before the doctors declared your vitals, He declared your value. Before you found your place here on earth, He prepared a plan for your life.
And once we're willing to demolish our desires, we will see Him develop our designed destiny. That once paralyzing fear is changed in the light of His faithfulness and the painful surrender transforms into a delightful purpose.
You were made for more!
So, grab the free workbook and join us as we dig into these things in "Crossroads: I Surrender All."