The sun glistened on the fresh raindrops outside the car window.  Partially dry windshield wipers screech across the window clearing the rain from the brief mid-June shower.
As I lifted my heavy head from my hands and wiped the pool of tears from my eyes, there painted across the sky in the most brilliant colors, was a rainbow. A promise. A covenant signifying hope after the storm, beauty after devastation.
Beauty, after this storm, Lord? Could there ever be?
Nothing would bring my brother back. Not only was I was mourning the loss of someone precious to me, but hopeless thoughts of his eternal home sank deep into my soul. Questions raced. Bargaining of "what if" and regret of "if only" stifled any strength I had left. How can anything beautiful come from such a tragic ending?
While I will never understand why this or other tragedies have to happen, I now know a side of my Father I never knew before. My Merciful Helper showed up with unparalleled strength, matchless healing, and restoration of hope.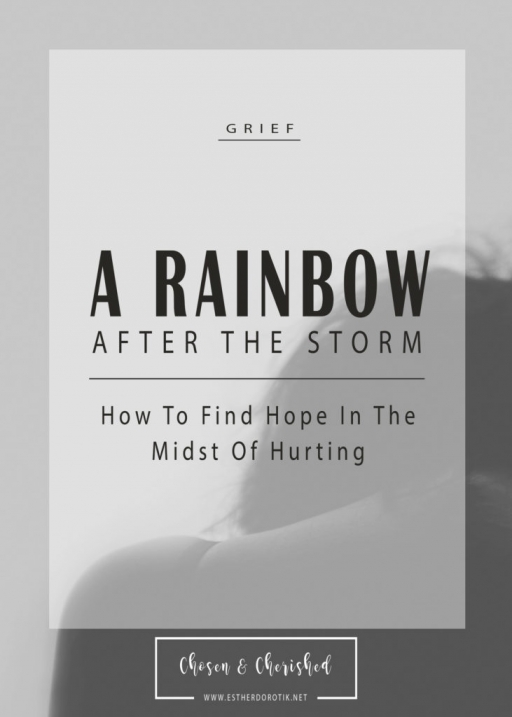 Perhaps, you find yourself grieving the loss of a loved one, miscarriage, a broken marriage, health, stability, or a dream. I'm here to assure you there is One who can take your wounded, weary, burdened soul and fill you with hope and joy in return.
But what do you do while you travel through this valley of despair? How do you get to the other side when you feel like you're surrounded by nothing but lifeless, dry bones? Grieve. Receive. Believe. And Agree.
GRIEVE
1. Allow Yourself To Grieve.
Grieving is a natural response to pain and loss. Psalm 126:5 says, "Those who sow with tears will reap with songs of joy (NIV)." Did you know the chemical makeup found in emotional tears are extremely different than normal lubricating tears? Filled with higher levels of manganese, they provide a "mental cleansing" and increased mood. But, there's no wrong or right way to grieve. The point is to permit yourself to do so, not to ignore or suppress your feelings. Roller coaster emotions are common: there will be good days and indeed hard days. Sow, scatter, shed your tears. However, whenever, wherever and with whomever.
Those who sow with tears will reap with songs of joy. He who goes out weeping, carrying seed to sow, will return with songs of joy, carrying sheaves with him. Psalm 126:5-6 NIV
Then David and the people who were with him raised their voices and wept until they had no more strength to weep. 1 Samuel 30:4
Blessed are those who mourn, for they shall be comforted. Matthew 5:4 NIV
2. Be Willing To Do Your Part. 
Notice, in Psalm 126:6, the person goes out weeping BUT still carrying seed to sow. We must be willing to do our part in the healing process. In addition to seeking God, this may include talking to friends, church family, or counseling. As an introvert, all I wanted to do was withdraw, avoiding any contact with the outside world. But, isolation only makes you vulnerable to enemy invasion. As hard as it seems, keep living. Go out weeping, and you WILL return with songs of joy, carrying sheaves of healing with you.
Two people are better off than one, for they can help each other succeed. If one person falls, the other can reach out and help. But someone who falls alone is in real trouble. Ecclesiastes 4:9-10 NIV
RECIEVE
1. Sorrow Is Temporary.
When you're in the midst of grief's valley and all you see are the mountains of despair hovering over you, it's hard to believe there will ever be better days. Eyes grow weak with tears, the body weary with sorrow, and anguish consumes strength. Walk through the valley but don't get stuck there. Don't stop and build a tent somewhere along grief's journey. It's been a little over two years since my brother's death and not a day goes by that I don't think of him, but the sorrow that gripped me has diminished. There is a time to weep and a time to laugh, a time to mourn and a time to dance (Ecclesiastes 3:4 NIV).
Even though I walk through the valley of the shadow of death, I will fear no evil for you are with me; your rod and your staff, they comfort me. Psalm 23:4 NIV
… weeping may stay for the night, but rejoicing comes in the morning. Psalm 30:5 NIV
2. God's Word
This might go without saying, but God speaks most through His Word. When you need to hear His comforting voice, dig into His love letter to you. I can't tell you how many times God met me on the pages of Psalms. During the darkest time of my grieving, when I couldn't see my hand in front of my face, Psalm 119:105 became my lifeline verse. His word gave me just enough light to see each next step, guiding me through the valley and onto healing. If you don't know where to start, the book of Psalms is a great place. Be prepared to be met by His comforting arms.
Your word is a lamp to my feet and a light for my path. Psalm 119:105 NIV
The 

Lord

 is close to the brokenhearted and saves those who are crushed in spirit. Psalm 34:18 NIV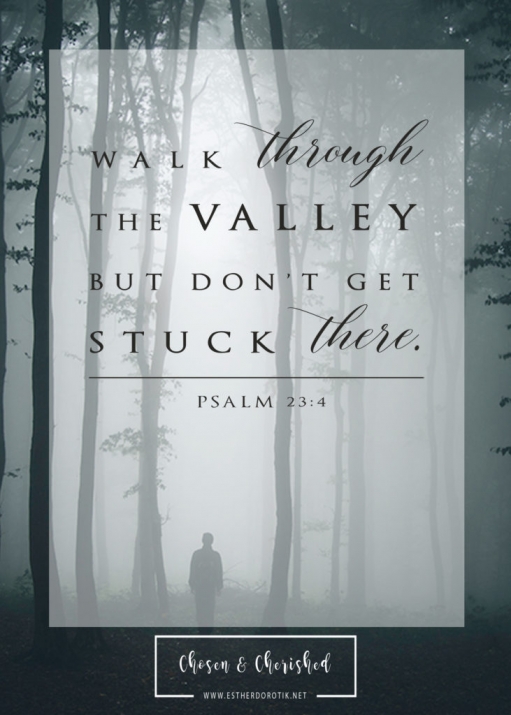 BELIEVE
1. God Will Bring Good Out Of Tragedy
For a child of God, suffering is never wasted. He alone can bring good out of our tragedies. If we allow God to use our pain, we will once again sing with joy. God can multiply the seeds, make them grow, and return them a thousand fold like sheaves. But, just like a seed looks completely different than the growing plant, our "sheaves" may look completely different than what we sow and expect. Either way, only our Redeemer can wipe every tear from your eyes and return what the enemy has stolen.
And we know that in all things God works for the good of those who love him, who have been called according to His purpose. Romans 8:28 NIV
2. Times of Refreshing Are Coming
Be patient. Waiting on the Lord's timing, not leaning on our understanding, is a test of trust. Will we wait for His leading or, out of frustration, will we jump ahead to what we think is best for our lives? Like a farmer who sows seeds and waits to carry sheaves, we too must wait on the Lord to renew our strength and replace our joy. He will give you wings to soar above the circumstances, to run the course and not grow weary, and to walk this season of sorrow and not faint.
But they who wait for the 

Lord

 shall renew their strength; they shall mount up with wings like eagles; they shall run and not be weary; they shall walk and not faint. Isaiah 40:31
Be strong, and let your heart take courage, all you who wait for the Lord! Psalm 31:24
The steadfast love of the Lord never ceases; his mercies never come to an end; they are new every morning; great is your faithfulness.  Lamentations 3:22-23
AGREE
1. To Share Your Story
There is a gift of understanding that comes from sharing your story with others. Understanding you're not alone. Not in your suffering, your feelings, your fears, your thoughts … NOTHING. A gift of understanding that, while some may be a little further ahead or behind, others are traveling the same journey to find hope and healing. God has strategically aligned my path with others going through similar grief and used my story as a key to lifting their burden on the journey. So, allow your pain to bring healing to someone else.
Praise be to the God and Father of our Lord Jesus Christ, the Father of compassion and the God of all comfort,

 who comforts us in all our troubles so that we can comfort those in any trouble with the comfort we ourselves receive from God. 2 Corinthians 1:3-4
What if you're not the one going through the grief. What can you do to for others?
To read about some ways you can help those grieving, join me over at DebbieKitterman.com where I'm guest posting. I hope to see you there!