This week marks the first ever "Newborn Safety Week".   Personally, I think this is a fantastic way in which newborn photographers around the country can emphasize the importance of safety when working with these precious lives.  With the recent popularity of newborn photography, many photographers are adding these tiny AND fragile little ones to their list of "specialties".   Many, with little to no experience in newborn photography, are trying these "cool" and unique shots seen elsewhere.  This week I will be sharing behind the scene and  "before and after" pictures of some popular newborn trends.
I've said it a million times: I am ALWAYS so humbled that parents trust me with their new baby.  That being said, safety is always of UTMOST importance in my studio.  Many of the pictures you see are not miracle shots but miracle compositions accomplished through the Photoshop.  Take, for example, the picture below of a baby hanging from a branch.   When my husband saw this portrait on my website, he asked, "Weren't her parents scared?"  I had to laugh but the REALLY SCARY truth is many photographers and parents see shots of this nature and think it is accomplished as seen.  If it looks near impossible, it most likely is…at least without compositions.
This picture was a composition in which I took a picture of the solid background and "erased" both Mom's and Grandma's hands as well as a big "Newborn Nest" bean bag.  The bean bag was within inches of the baby and it was still "all hands on deck"…literally.  In actuality, the baby is only 2 feet from the ground (including the bean bag) but, to give the illusion of her hanging higher in the air, the picture was taken from a VERY low angle (me laying on the ground).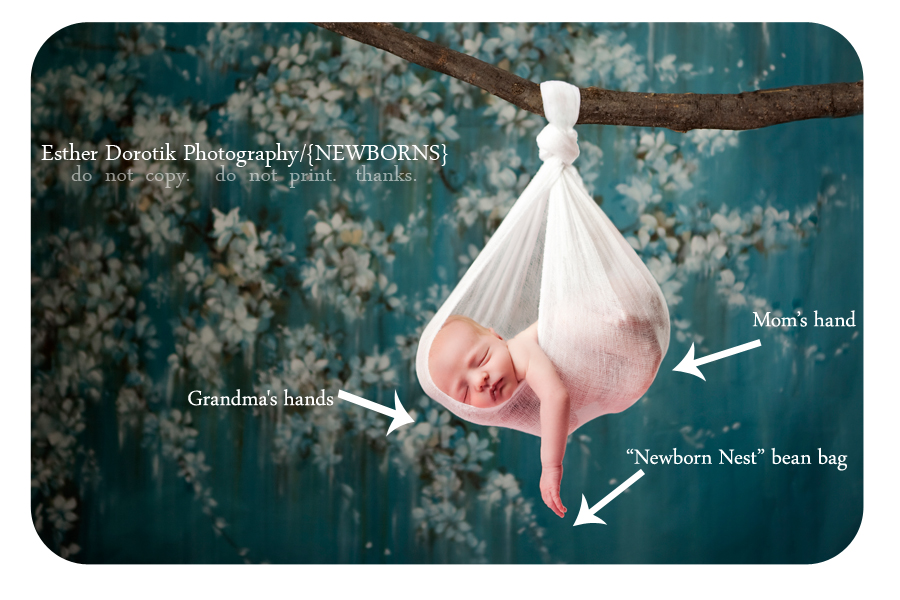 www.estherdorotik.com